2022 Salary Guide for Legal Expertise
Find out the salaries, benefits and market trends for the Legal industry.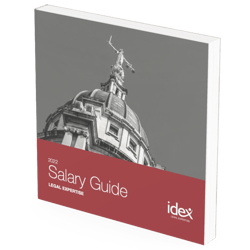 IDEX Consulting's 2022 Salary Guide for Legal Expertise has been designed specifically for Partners, Associates, PQEs and Directors for a wide range of years post qualification.

Firms faced significant battles in the first half of 2021, having to adapt to rapid digitalisation and remote working following lockdown. But the second half of 2021 saw a huge shift as Legal firms bounced back.

However, leaders in Legal are still facing significant challenges, as the demand for legal professionals surpasses pre-pandemic levels, resulting in severe skills gaps. Firm leaders have identified three challenges they must navigate in 2022:
A renewed focus on profitability;
A shift in the operational support model; and
Increased expectations — from lawyers, staff, and clients — around technology.
In this guide you will learn:
The average salaries for PQEs, associates, solicitors, partners, directors and managers

The state of recruitment in Legal

The shift in priorities and workplace benefits

The changing workplace culture in Legal
Our global salary report delves into firms in the following territories:
London City

West End

Magic Circle

New York

Mid-Atlantic

Scotland

The Middle East
This guide is designed for professionals who are hiring and want to benchmark salaries and understand what's important for professionals applying for roles such as trainee solicitors.
Our report also outlines the trends and market shift in Legal, and helps professionals confidently negotiate salaries and remuneration. Enter your details in the form and find out everything you need to know in our free Legal salary guide for 2022.