2022 Salary Guide for Risk and Compliance in Financial Services
Find out the salaries, benefits and market trends for the Risk and Compliance sector.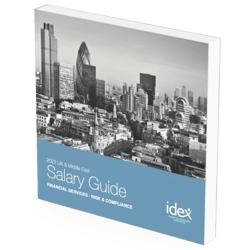 IDEX Consulting's 2022 Salary Guide for Risk and Compliance is specifically for professionals working in Compliance, Risk, Training and Competence, Financial Services and Cyber Crime.

Last year, the Risk and Compliance sector was forced to adapt and evolve against the environmental and economic challenges that came with COVID-19. Growth plans were put on hold, but now leaders are going full steam ahead as the economy returns to 'normal'. As a result, there's an unprecedented level of job opportunity and recruiting in store for 2022.
Remote working, digitalisation and flexible hours mean that hiring managers can widen their talent pool and hire talent across the country, further fuelling the so-called 'war in talent' and reinforcing competition.
Additionally, Financial Services has seen a significant rise in business valuation. Consequently, there's a great deal of interest from PE houses and other firms looking to acquire and fast track business growth.

In this guide you will learn:
The average salaries for Analysts, Officers, Managers and AMLs
The state of recruitment in Risk and Compliance
The shift in priorities and workplace benefits
The changing workplace culture
Our 2022 salary report delves into firms in the following regions:
London
South of England
The Midlands
North Of England
Scotland and Northern Ireland
Our report outlines the shift and market trends in Risk and Compliance, helping professionals to negotiate salaries and make decisions with confidence.
From benchmarking a Risk Analyst's salary in London to highlighting the expected benefits of a workplace, this guide is designed for hiring managers and professionals looking for their next role.
Enter your details in the form and find out everything you need to know in our free Risk and Compliance salary guide for 2022.